Welcome to this week's edition of our Friday Quality Linkage column. Please enjoy this week's collection of interesting and entertaining links. Brew a fresh cup of coffee, find a comfortable place, and relax.
* * *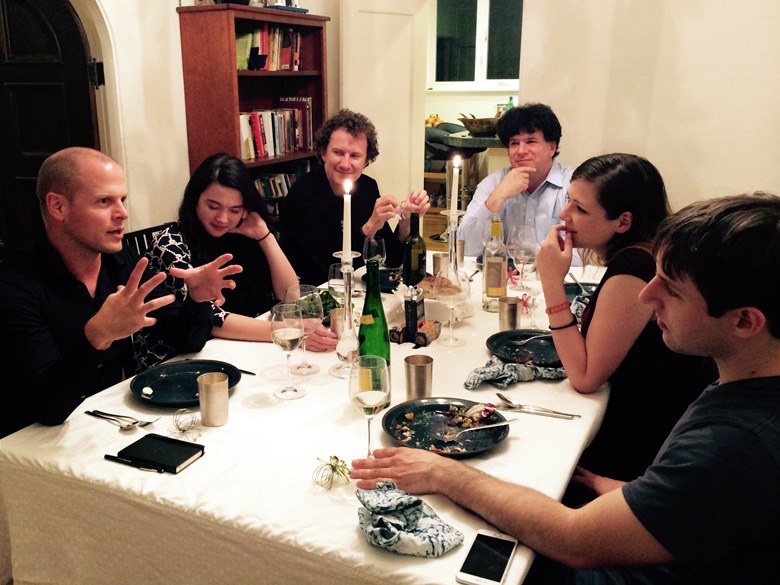 A recent movement, one designed to make its participants a little uncomfortable, is currently spreading around the world. It's called Death Over Dinner. The goal of this movement is to gather a group of people — whether friends or strangers — around a meal and discuss some of the most important questions of our lives before it's too late.
Capital Public Radio's Leslie McClurg sat in on one of these dinners in San Francisco, where one of the members was actually Tim Ferriss himself (you'll know him as the author of The 4-Hour Workweek and other such books). Imagine being a fly on the wall in this sort of conversation (or hosting one of your own):
The conversation twists and turns for more than an hour. The group talks about losing parents, funeral norms across cultures, even the ethics of life extension. Then, Eric Weinstein asks the table, "Do you feel that you're doing anything of sufficient significance that your work will be felt 200 years beyond your demise."
Heavy stuff, certainly, but that's the point. These are topics more of us should be talking about with one another, without fear or hesitation.
---
A couple weeks ago at our sister site The Sweet Setup, we interviewed Mike Dickens about his iPhone + iPad world travel setup. This led all of us to reading he and his wife Ariane's travel and photo blog, Somewhere Pretty Cool, which they updated regularly while traveling around during the nearly year-long sabbatical they were on (it just ended a few days ago).
There's no particular post I want to link to here. Instead, I'll recommend browsing the entire archive because it's all good stuff (especially the photos). After reading this blog, we're thinking that maybe a year-long travel sabbatical should be mandatory for everyone. Also be sure to check out their resource page for helpful tips on travel gear and such.
---
Rob Walker of Yahoo! Tech writes about the story behind one of my favorite sounds in cinema history:
Digital audio engineer James A. Moorer has had an impressive career: He holds multiple patents, has won an Oscar and an Emmy, and was involved in the founding of Stanford's Center for Computer Research in Music and Acoustics.

But his most famous and familiar work is something that came together in just four days back in the early 1980s. You've heard it if you've gone to the movies since then, and maybe even if you haven't. It starts quietly, and it doesn't last long, but it quickly swirls and builds a kind of thundering tone that can't be ignored.

It's the "audio logo" that announces that you're in a THX-ready theater. It even has a name: Deep Note.
After reading the story, check out the just-released new version of Deep Note (embed courtesy of Fast Company because the version on Yahoo! Tech includes a lame pre-roll ad):
---
I recently discovered photographer (and former coal miner) Ray Collins through a blog post by Khoi Vinh, and man, this guy's photos of the sea are incredible. You can order any of them as a print, with a variety of sizes, papers, and frames to choose from.
I also enjoyed this nicely shot behind-the-scenes video that gives a glimpse into his process:
---
Fifteen years ago (as of this past Tuesday, April 7th, 2015), A List Apart published John Allsopp's seminal article, A Dao of Web Design. (If you've not read it before, do it now. You'll be happy you did.)
To commemorate the occasion, they asked some of their past authors and friends to share their thoughts and reflections on the article and how its message still holds true today. The whole page is a goldmine. They've gathered so many great takes on the piece from a ton of awesome people (if you follow the web design world at all, you'll recognize most of them), but I particularly loved this excerpt by Paul Ford:
I don't know if the issues raised in "A Dao of Web Design" can ever be resolved, which is why the article seems so prescient. After all, the Tao Te Ching is 2500 years old and we're still working out what it all means. What I do believe is that the web will remain the fastest path to experimenting with culture for people of any stripe. It will still be here, alive and kicking and deployed across billions of computing machines, in 2030, and people will still be using it to do weird, wholly unexpected things.
John Allsopp himself also reminisced about the piece:
15 years later so much has changed […] But I continue to believe, just as the Web is not print, though it emerged in many ways from the medium of print, it is not just another application platform. It has its own genius, which we could call as I did all those years ago, adaptability.
---
The editors at Oyster Books publication The Oyster Review took on the gargantuan task of reading thousands of books published since 2010, and after much internal debate they've come up with this list of the top 100 books from the past half-decade.
If you've been hankering for good books to read but don't know where to start, this is the list for you.
---
Selena Larson, writing for The Daily Dot about how exhausting yet helpful it can be to project a positive attitude online even when it reflects nothing about one's real life.
According to social psychologist Amy Cuddy, people's perception of themselves and others changes based on body language. Things like "power posing" when we don't feel confident or forcing our mouths into a smile can affect the chemicals in our brain and trick it into thinking our body is feeling something different.

[…]

Tweets were my power poses. Instagram photos were the pen in my mouth forcing me to smile. And as I pretended that the life I built wasn't falling apart, I slowly began to believe it.
I won't lie, I've done my fair share of "power posing" online even when circumstances in my real life have taken a bad turn. But you know what, Selena's right — doing so has helped me feel better about things in the past, so I have no regrets about it.
---
Matt Haughey shares some information that, for anyone considering buying an electric car, will likely prove invaluable going in. Take this section on charger etiquette:
If you pull up to a public charger which is being used, but the meter clearly says the battery is full on the car using it, should you unplug and use it in your car? (kind of like an apartment building with only one washer/dryer and your neighbors putting your clean, dry underwear in piles on the dryer so they can use it)

Not so fast! Locked/alarmed cars mean the chargers are locked into the cars and can't be swapped, so what are we to do? Some charger systems text you when charging is complete and remind you to unplug, while some charge network apps let you text the driver to ask them politely to share the plug.

What happens at a company parking lot with two chargers and four employees that drive EVs? Interoffice email?

How do EVs safely interact in downtowns filled with pedestrians while emitting almost no noise?

EVs are still a new, developing thing and how we interact with them as humans is subject to change, but I'm sure something resembling common, courteous behaviors will emerge soon, but so far things are still developing.
* * *
Got any suggestions for articles, videos, stories, photographs, and any other links you think we should be posting in our weekly Quality Linkage? Please do let us know on Twitter.