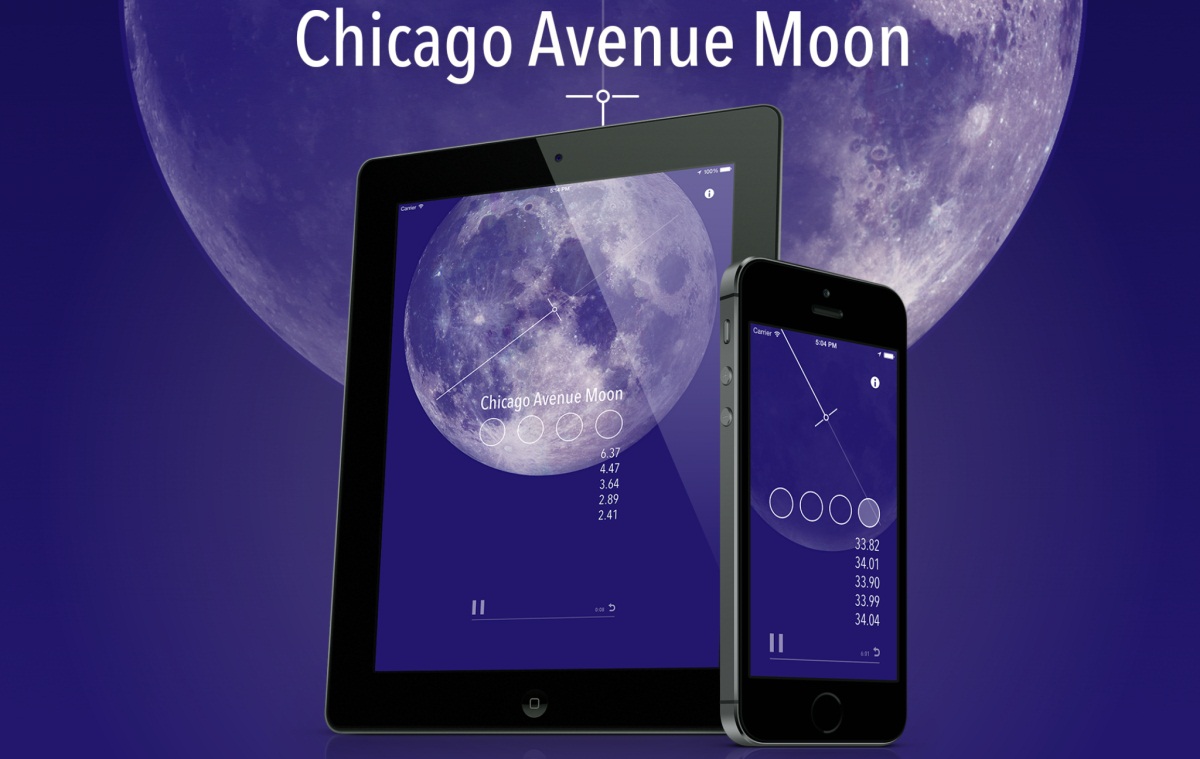 Chicago Avenue Moon
Chicago Avenue Moon is an unexpected new app from Junecloud—the studio behind Delivery Status Touch—that blows my mind a little. It's designed to generate a personalized soundtrack for the listener as they move about, but that description doesn't tell the whole story so I'll just quote the source:
"Chicago Avenue Moon is a responsive, generative music app that gathers a set of variables including date, time, phase of the moon, and GPS location, and uses that data to determine how its music unfolds, in real-time. The piece is intended for a listener in motion, whose route and speed affect the composition. Composer Joshua Dumas wrote 1000 brief musical phrases which the app manipulates, sequences, and layers to create trillions and trillions of variations, a unique experience with every listen.
He imagines the piece as a personalized soundtrack for strangers' mundanities—an effort to help re-enchant a person's daily commute, trip to the laundromat, or evening jog."
I like the use of the word "enchant" because that's exactly how the app feels to me: enchanting. The music sometimes reminds me of the Journey game soundtrack, in all the best ways. You can listen to a sample here.
One nice touch is that it tracks certain statistics as you listen to the app, such as: number of permutations heard, total listening time, longest listen, distance traveled, favored direction (mine is north), number of full moons, and number of new moons.
Chicago Avenue Moon is only $1 right now, and will go up to $2 after February 11th 2014. I highly, highly recommend checking it out.
Thanks, Nate!