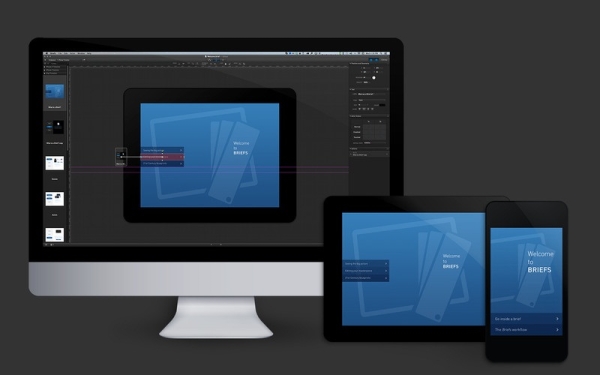 Briefs for Mac and iOS
Remember back in 2009 when designer Rob Rhyne unveiled an ambitious UI prototyping toolkit for iPhone called Briefs? After several years of waiting, and a couple of rejections by Apple, Briefs has (*finally*) made its introduction to the public.
Briefs for Mac allows app designers to arrange UI elements (such as buttons, toolbars, alerts, text/search fields, etc), entire screens, artwork, and transitions into a fully interactive mockup, all without writing a single line of code. These mockups, called briefs, are where the app gets its name.
You can simply drag-and-drop elements into place on a timeline, or create your own elements to be imported into the app, then demo the finished prototype right there on the Mac when you're done. It's like a strange combination of Keynote, Photoshop, and iMovie, but it works.
Where it gets even better is when an iPhone or iPad gets involved, thanks to their free Briefscase companion app. With Briefscase, you can send briefs straight from your Mac to your iDevice over a local wifi network and play with the prototype right there. So cool.
Briefs for Mac is $199 on the Mac App Store, which obviously isn't cheap, but keep in mind that this is an app designed for professionals. This thing will help you impress your clients so fast that it'll probably pay for itself after a single job.