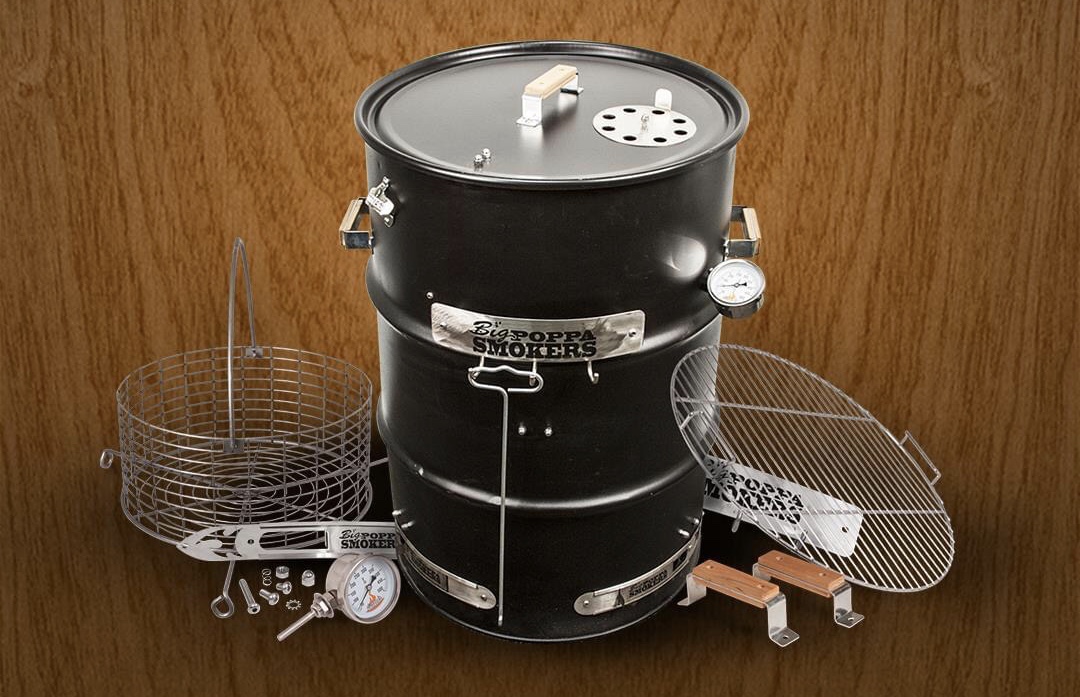 Big Poppa DIY 55-Gallon Drum Smoker Kit
If you don't already own a little Weber grill to turn into a smoker, or even if you do own one and simply want a Bigger Boi to host cookouts with, I would take the advice of Meathead Goldwyn and "please please please don't buy an inexpensive offset/horizontal smoker." Sure, they look cool, but they don't direct heat or smoke all that well until you start spending north of a thousand bucks.
For a fraction of the price, you can actually build your own smoker out of a 55-gallon drum with one of these kits. Of course, you'll have to supply your own drum and some tools to get the job done:
Electric/cordless drill
7/8″ wrench (or adjustable wrench)
7/16″ wrench (or an adjustable one also.)
Tape measure
Straight edge
Notice how there's no mention of any welding gear?
Barring that minor list of tools, the kit gives you everything else you need to turn that drum into a world-class smoker:
Top vent
2 stainless steel bottom slide vents
Nickel-plated grill cooking grate
Lid hook
Stainless steel lid handle with wood grips
A pair of stainless steel drum/smoker handles with wood grips
Side-mounted bottle opener (a critical piece, of course)
Shield assembly
Charcoal nest hook
Steel charcoal nest assembly
BBQ thermometer
All the necessary mounting hardware
Full assembly instructions
The company does recommend doing a high-temperature burn inside the drum after all holes are drilled, but before adding any hardware. After it's been burned out and assembled, you're gonna have a killer piece of BBQ equipment at your disposal.
This kit significantly reduces the cost, time required, and probability of error. And the results can cook competition worthy meat. Really.



—Meathead Goldyn, AmazingRibs.com
Now, if you don't want to go to the trouble of sourcing your own drum, the company does offer a number of undrilled, pre-drilled, and partially assembled drum smoker options to make things easier. Up to you.
Get the DIY drum smoker kit for $140 at BigPoppaSmokers.com