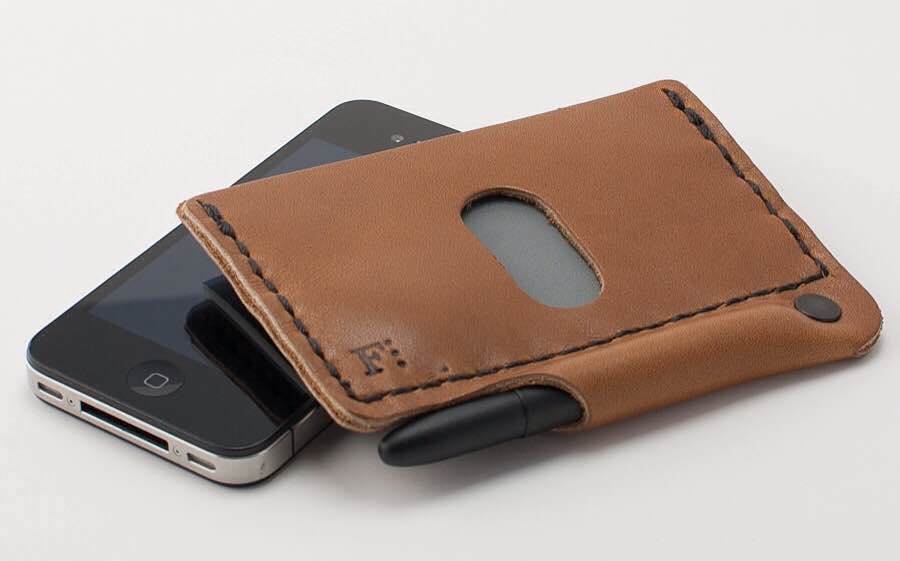 Architect's Wallet
We've featured lots of minimalist wallets before, but the Architect's Wallet designed by Shawn Reed at form•function•form has a particularly rugged and utilitarian aesthetic that we love.
It's made from your choice of leather (Horween Chromexcel, vegetable-tanned, or latigo) and comes in an array of colors. But what's really cool is that it comes with a write-anywhere Fisher Space Bullet Pen in matte black or chrome — the color of which the wallet's YKK rivet will match either way — and a pair of extra-small Moleskine Volant (2.5″ x 4″) notebooks. So not only will it hold several cards and bills and probably last decades besides, it's also great for quickly jotting down notes or sketching out ideas when they strike.
(Note: the wallet will only fit one notebook at a time. Also, the pen's cap is permanently affixed in the riveted slot so it doesn't accidentally slide out as the leather breaks in.)
Something I like about this item's store page is that in the description tab at the bottom, there are expandable options to read about how the designer uses this wallet and his thoughts on the ways various leathers break in (i.e. stretch) over time. They also have comprehensive sections for reviews and Q&A. All well worth reading.
Get the Architect's wallet for $98 at form•function•form.