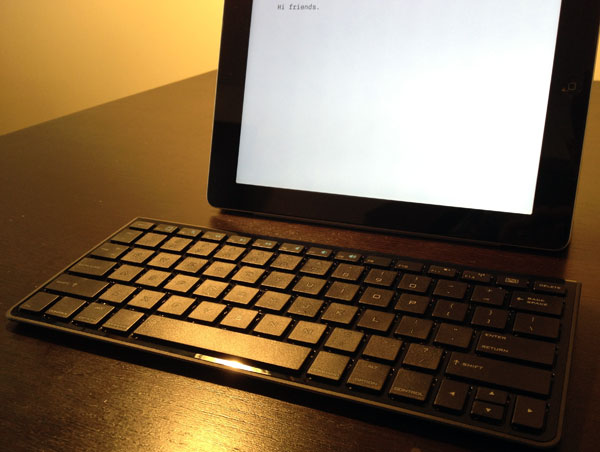 AmazonBasics Bluetooth Keyboard for iPad
When at my desk, my MacBook Air works in clamshell mode while connected to an external display, an Apple Bluetooth keyboard, and a Magic Trackpad. For the times I want to do a lot of writing on my iPad I have to un-pair the Bluetooth keyboard from my Mac and re-pair it to my iPad.
And so I bought this AmazonBasics Bluetooth keyboard. It is specifically laid out for use on an iPad and/or iPhone. It has a button to show/hide the iPad's on-screen keyboard, a button for taking you to the iOS Home screen, and a button for launching iOS Spotlight. It's inexpensive for a Bluetooth keyboard ($40) and the build quality is actually quite nice. It is a little bit smaller than the Apple wireless keyboard. If you're in need of a secondary wireless keyboard for whatever reason, this gadget is a good value.
(My only disappointment was that after I bought this keyboard from Amazon, I discovered the Origami Workstation. And the Origami case is custom designed to work specifically with the Apple Bluetooth keyboard.)