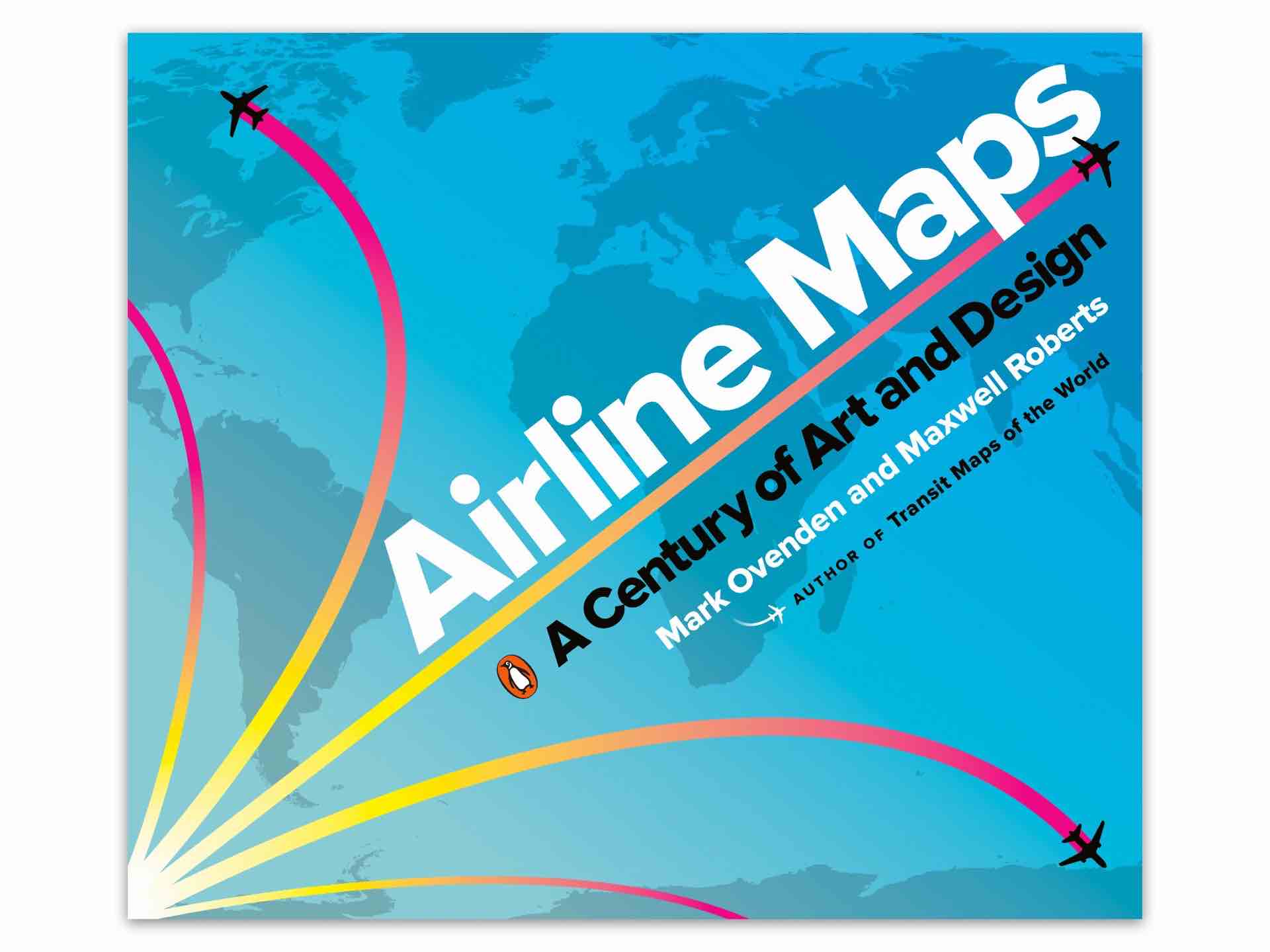 'Airline Maps: A Century of Art and Design' by Mark Ovenden and Maxwell Roberts
As I mentioned in yesterday's link list, transit/design historians Mark Ovenden and Maxwell Roberts worked together to produce Airline Maps, a coffee table book (though a smaller paperback one) that collects a century's worth of gorgeously illustrated, full-color airline route maps, from the glamorous early days of commercial flight to today:
From the first faltering flights over plains, water, and mountains to the vast networks of today, air travel has transformed the world and how people see it. Maps played their part in showing what was possible and who was offering new opportunities. As tiny operations with barely serviceable airplanes pushed out farther and farther, growing and merging to form massive global empires, so the scope of their maps became bigger and bolder, until the entire world was shrunk down to a single sheet of paper. Designs featured sumptuous Art Deco style, intricate artistry, bold modernism, 60s psychedelia, clever photography, and even underground map-style diagrams.

For the first time, Mark Ovenden and Maxwell Roberts chart the development of the airline map, and in doing so tell the story of a century of cartography, civil aviation, graphic design and marketing. Airline Maps is a visual feast that reminds the reader that mapping the journey is an essential part of arriving at the destination.
Throughout the book you'll find wonderfully creative and diverse maps by airlines that no longer exist (PanAm, TWA, etc) right alongside those of airlines still going strong. You also get to see how the design of airline cartography evolved over the course of decades, back when people were still excited about flight as a thing.
Advertisements for the first scheduled commercial passenger flights featured only a few destinations, with stunning views of the countryside and graphics of biplanes. As aviation took off, speed and mileage were trumpeted on bold posters featuring busy routes. Major airlines produced highly stylized illustrations of their global presence, establishing now-classic brands. With trendy and forward-looking designs, cartographers celebrated the coming together of different cultures and made the earth look ever smaller.

Eventually, fleets got bigger and routes multiplied, and graphic designers have found creative new ways to display huge amounts of information. Airline hubs bring their own cultural mark and advertise their plentiful destination options. Innovative maps depict our busy world with webs of overlapping routes and networks of low-cost city-to-city hopping.
Again, I recommend reading this interview with the authors by Jennifer Nalewicki of Smithsonian Magazine, which covers why Ovenden and Roberts decided to make this book and shows off some of the kinds of illustrations you'll find within it.
Get the 144-page paperback for $21.