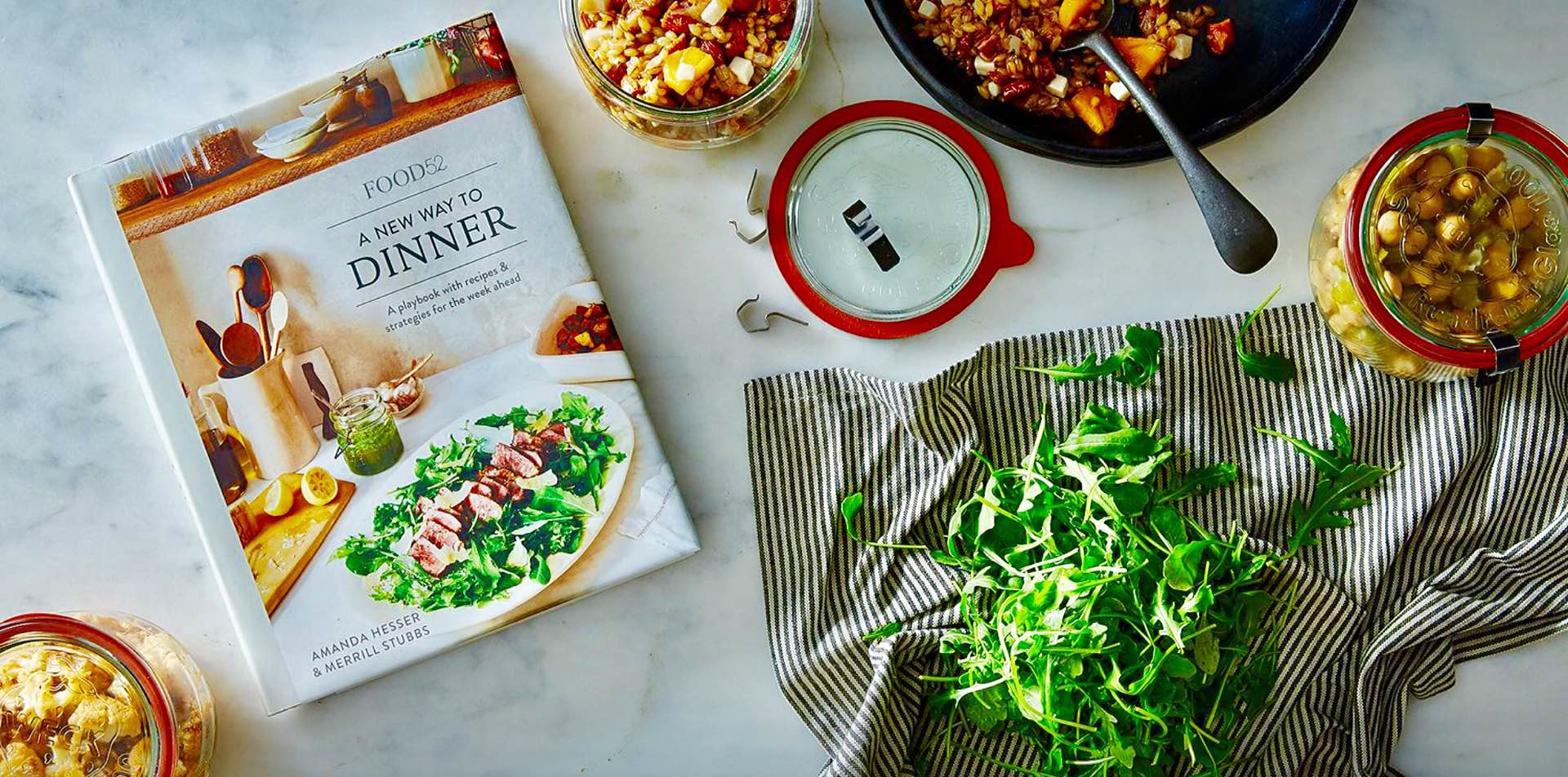 'A New Way to Dinner' by Amanda Hesser and Merrill Stubbs of Food52
A week ago today, Food52 founders Amanda Hesser and Merrill Stubbs released their new cookbook, A New Way to Dinner: A Playbook of Recipes and Strategies for the Week Ahead.
Designed around weekly and seasonal grocery shopping, A New Way to Dinner is an indispensable guide to advance meal preparation — that is, cooking a few base dishes on the weekend and using them in dishes throughout the next week (mostly dinners, with a few lunches and desserts thrown in for good measure).
The book description offers a couple examples of what you'll learn to do:
Blistered tomatoes are first served as a side, then become sauce for spaghetti with corn. Tuna, poached in olive oil on a Sunday, gets paired with braised peppers and romesco for a fiery dinner, with spicy mayo for a hearty sandwich, and with zucchini and couscous for a pack-and-go salad.
And their announcement blog post explains why they wanted this book to exist:
We get it. You might think that since food is our business, cooking dinners every night would be a given. Alas, it's not. Running our business is intense. We're also parents, and that keeps us busy, too. It's rare that we're home before 7 and it's frequent that we're out at events on weeknights.

But serving good food to our families is incredibly important to us and critical to our happiness. So we figured out a way to keep up our busy schedules while making sure we got great dinners on the table. After years of trial and error, we figured out that if we want to eat well, we need to plan ahead and do the bulk of our cooking over the weekend.
If you've been struggling to find the balance between a busy life and eating well, A New Way to Dinner will help you master make-ahead meal planning so you can stop stressing out about cooking every night and just enjoy the food.
Get the book in these formats: