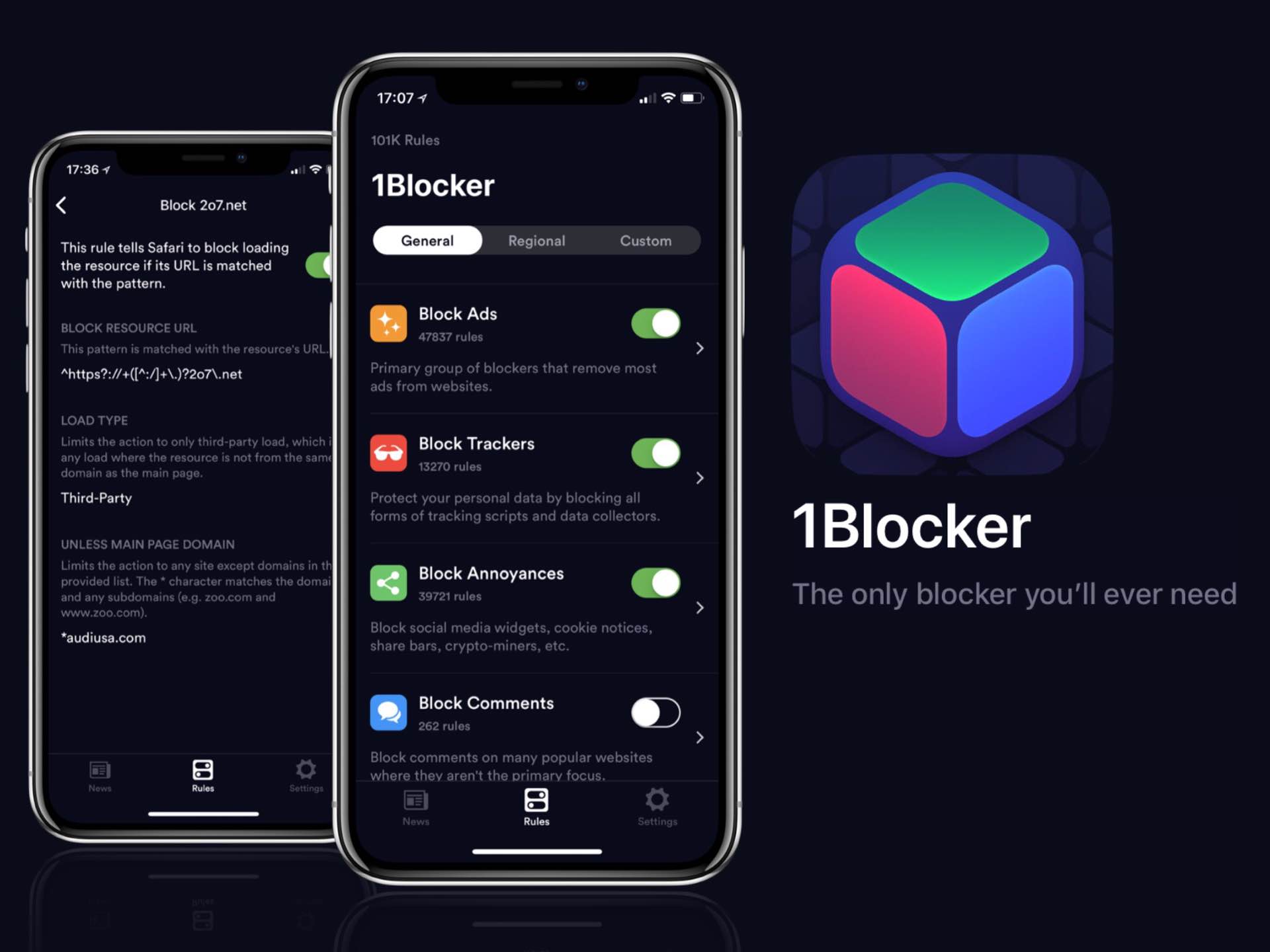 1Blocker X for iOS
When Safari content blockers first became a thing on iOS 9 back in 2015, there was something of a land rush between blocker apps. Marco Arment even got in on the action, although he quickly pulled it down.
While we've never done a formal iOS ad blocker review over at The Sweet Setup, my own opinion is that the best choice has always been 1Blocker. It was easy to use, blocked just about everything I wanted, and whitelisting sites was simple to do with the Safari browser extension.
This week, developer brothers Salavat and Rinat Khanov have released 1Blocker X, a rewritten-from-the-ground-up paid upgrade with big ramifications. The legacy app could only have up to 50K blocking rules due to Apple's policy for content blocking apps. To get around that, they split up the one overarching extension into seven independent ones, each with its own 50K limit:
Block ads
Block trackers (tracking scripts, data collectors, etc)
Block annoyances (social media widgets, cookie notices, share bars, crypto-miners, etc)
Block adult sites
Block comments
International rules (block German and/or Russian ads)
Custom rules
By separating the extensions this way, 1Blocker X will now be able to support up to 350K rules. (As of now, they've already upped the ante from the legacy 49K to the new 120K.) In a future update, this separation of extensions will allow the app to partially whitelist sites — for example, if you want to allow comments on a given site but still block ads and trackers there. The legacy app could never do that; it was all or nothing.
I know some people have already griped about 1Blocker X being a paid upgrade (which always seems to come up when developers dare attempt to make a living 🙄), and if you count yourself among that crowd (again, 🙄), their announcement blog post should ease your concerns a bit:
You can continue using the old app if you wish to not upgrade right away. 1Blocker Legacy will still receive updates to our rule sets. We are not removing it from the App Store. Legacy app will still work as it did before.

There are also free alternatives. You can switch to another app/company if you think their app works better.
Hear, hear.
As a bonus, the upgrade process is a breeze:
After you update to 1Blocker X all your custom rules, including Whitelist, will be available in the new app, thanks to our iCloud synchronization. It's even possible to sync the rules between the old and the new app via iCloud.
Get 1Blocker X for a limited-time launch price of just $5 on the iOS App Store. Don't forget to support your favorite sites by whitelisting them!