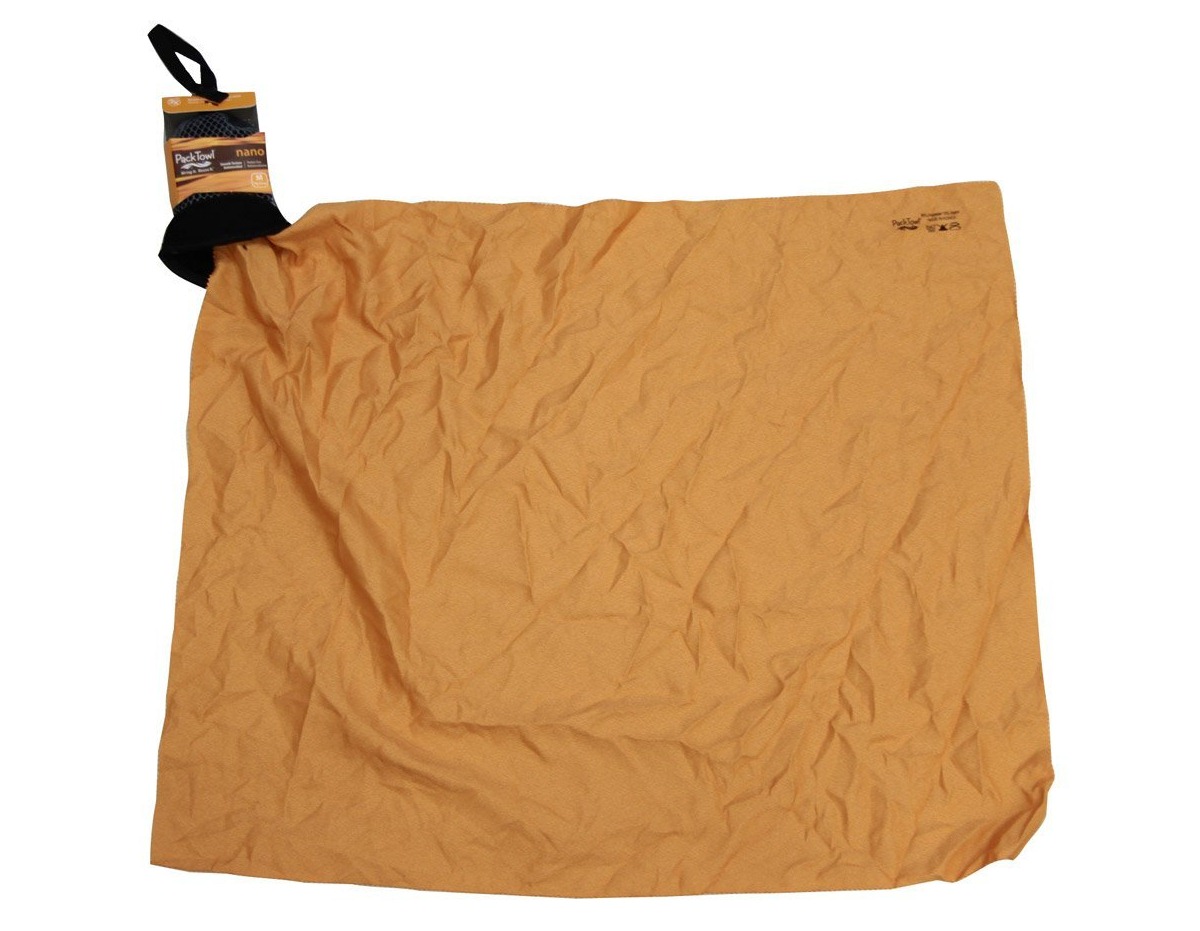 Anybody who's ever read Hitchhiker's Guide to the Galaxy will tell you: a towel is one of the most important and useful things a traveler can carry. And if you're going to have one with you at all times, the Packtowl Nano Light Towel is an excellent choice.
This thing can absorb just about any liquid you throw at it (up to twice the towel's weight) and it will wring out almost completely dry as if by magic. It can be used over and over for several days before needing a wash, and when not in-use, it can be easily stored in the included mesh bag (which has a nifty snap-on strap for attaching to other equipment, such as a larger bag or tent).
It's not meant to replace your bathroom towels, but it's perfect for camping and other sorts of travel, and even for cleaning your eyeglasses. I recommend picking up a few of the medium size, which are $11.55 each on Amazon.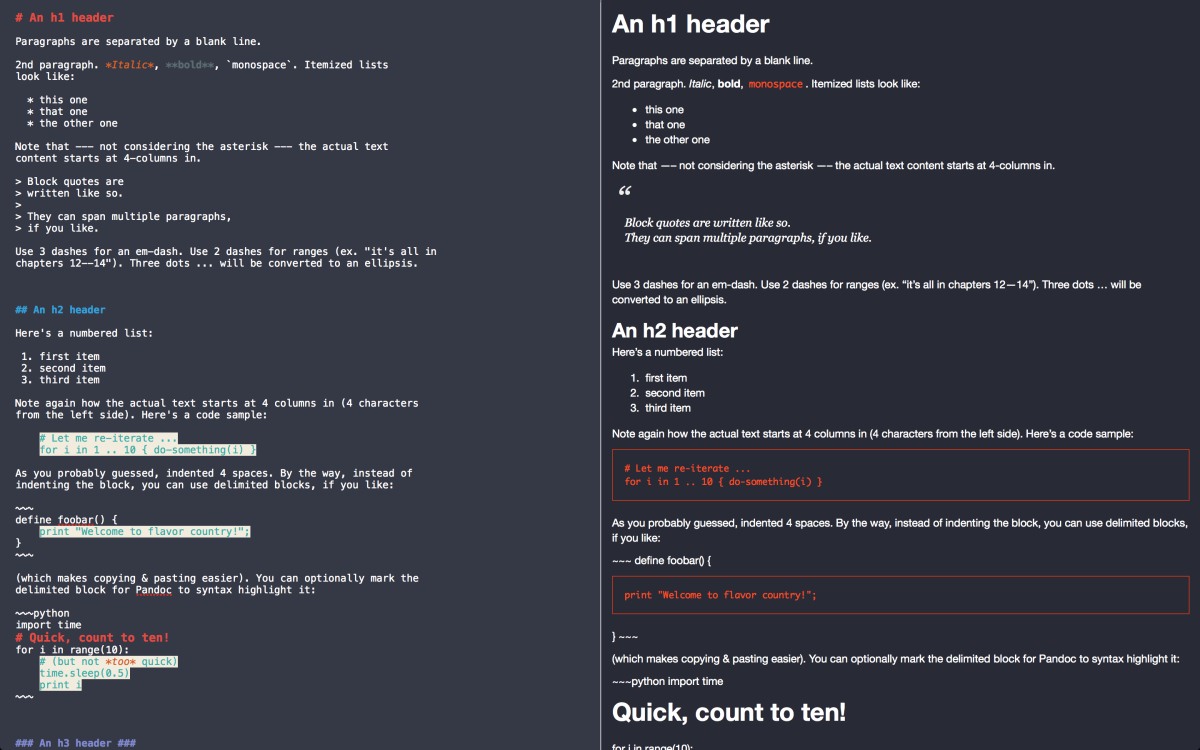 MarkDrop is a new text editor for Mac OS X (10.8 and above) that combines Markdown with Droplr for easy sharing and storage.
The left pane, with its monospaced text and format-highlighting, is where you'll do your writing. The right hand pane provides a real-time preview of your Markdown output. Once you've composed something in MarkDrop, it can be saved directly to your Droplr account, previewed in a browser, or shared via a Droplr link. You can also save your documents locally, or export them as HTML or PDF.
MarkDrop is available on the Mac App Store for $4.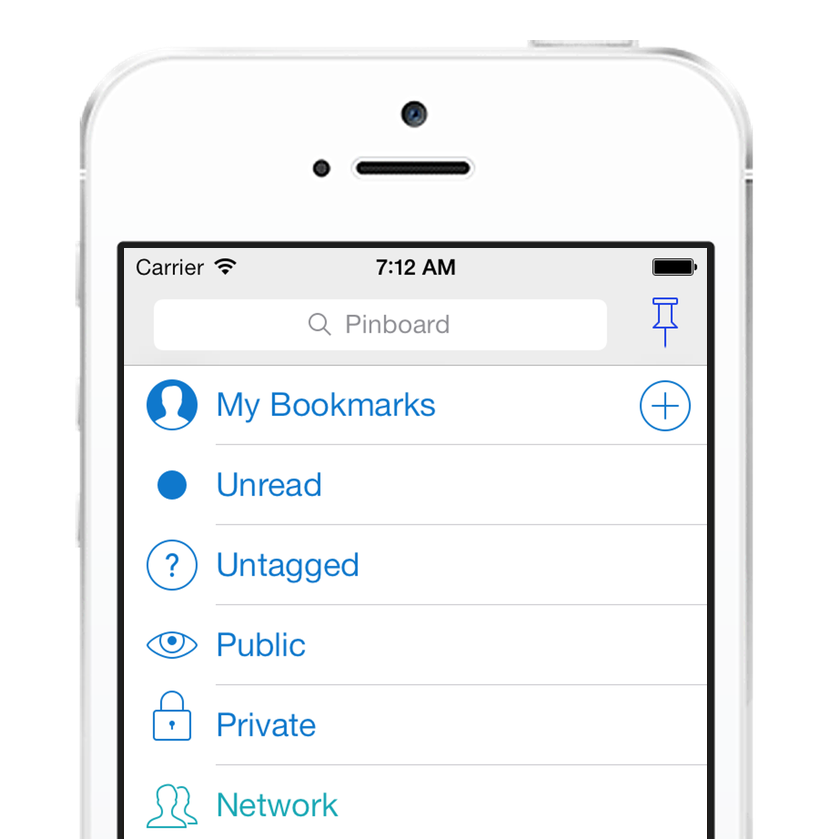 There are numerous Pinboard clients out there for the iPhone, but Pinswift is my new favorite.
The iOS 7-only iPhone app features a clean design, but isn't void of personality. The app syncs and searches quickly, and ships with robust x-callback-url support.
Pinswift is $4.99 in the iOS App Store.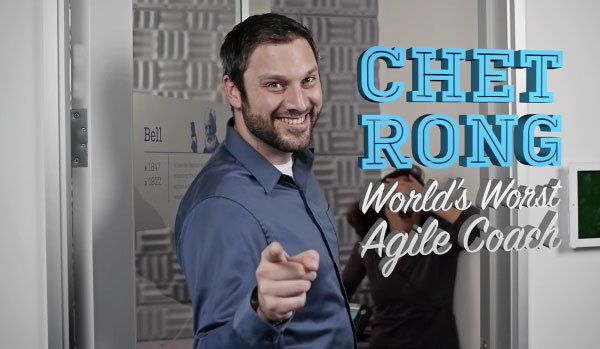 What's the point of an agile standup meeting?
Gone are the days of 30-minute status meetings where most people are half-asleep or pecking away on their laptops, oblivious to what's being said. Agile standups are the leaner, more efficient cousin of status meetings where attendees actually stand up. On our feet, we're more focused, attentive, and concise. It's science!
Whether you need robust tools for planning and tracking projects, communicating with coworkers, deploying products, or just some general tips on how to run an agile shop (and how to run them Rong?), Atlassian is here to offer you the tools and advice you need to get the most out of your agile practice.
* * *
Our thanks to Atlassian for sponsoring the RSS feed this week. Sponsorship by The Syndicate.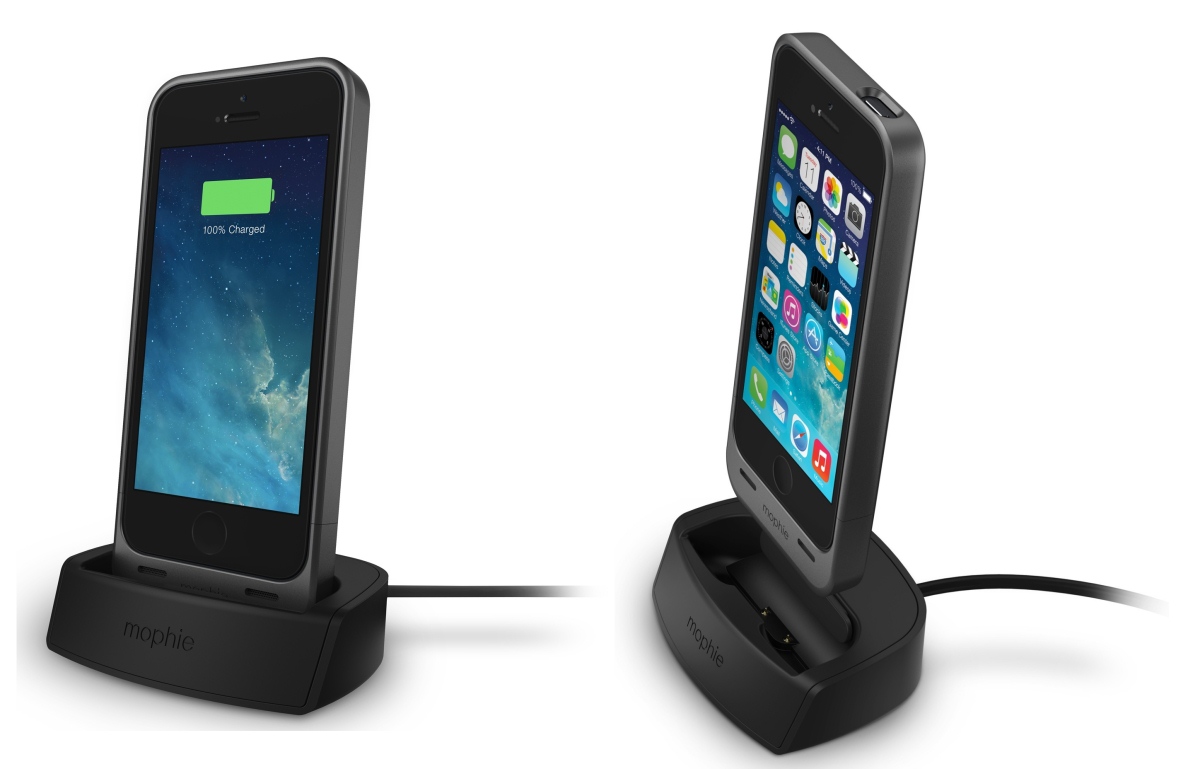 If you're the proud owner of an iPhone 5/5s-compatible Mophie Juice Pack (and you should be, because they're awesome) then you should also look into getting a Juice Pack Dock. It bypasses the Lightning connector, using a special dock connector built into the bottom of the Juice Pack.
And just like plugging the Juice Pack directly into a power outlet, the dock will charge the Juice Pack and the iPhone simultaneously. No muss, no fuss. $50 at Mophie.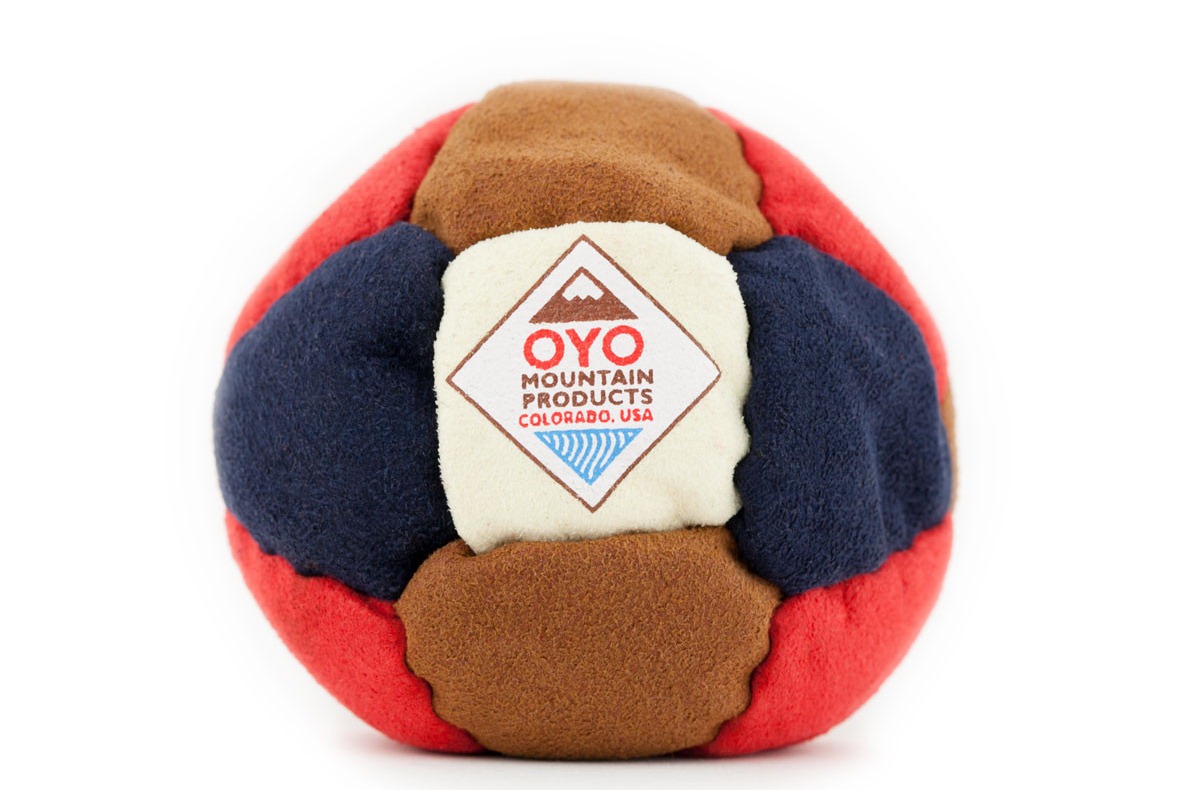 When I was in marching band back in high school, one of the ways my friends and I chose to pass the time during competitions (when we had nothing better to do than stand by the school bus and wait our turn) was play Hacky Sack in the parking lot.
I still have one of my old hacky sacks from those days, but it's in pretty rough shape and needs to be replaced. I think the Oyo Mountain Foot Bag is the one I'll be going with. There's not much to say about it other than that it's made from super-soft suede and looks really nice.
It's only $12 too, so it won't exactly be blowing my Christmas budget or anything.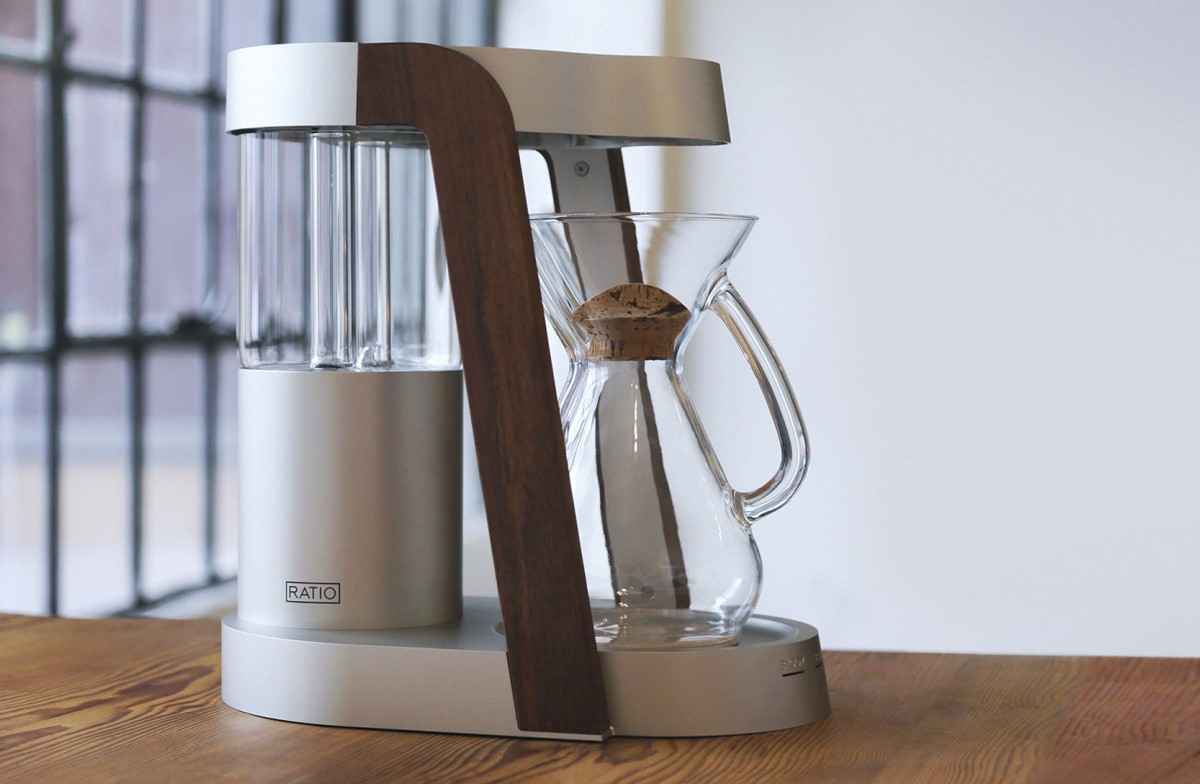 If there's one thing we at Tools & Toys (and many of our readers) are not in need of, it's another coffee-making contraption. I mean, the lot of us are nearly full-on baristas at this point. But this beautiful, upcoming device called the Ratio Eight coffee machine definitely seems worth checking out.
This machine looks like a cross between a Chemex coffee brewer and a MacBook Pro. While the Chemex requires a completely hands-on, pour-over approach, the Ratio Eight uses a single button and a consistent temperature of about 200°F to get the job done. It even takes the bloom effect into consideration and accordingly pours water in cycles.
Unlike most automatic brewers, the Ratio Eight uses a showerhead-like pouring mechanism rather than having the coffee drip from a single spout, resulting in a more evenly-distributed brew and better-tasting coffee.
That is, theoretically. The device is only available for pre-order currently, so I haven't been able to test this thing out yet (although I certainly can't wait to).
The pre-order price is currently $395. When January 2014 rolls around, that price will go up to $480.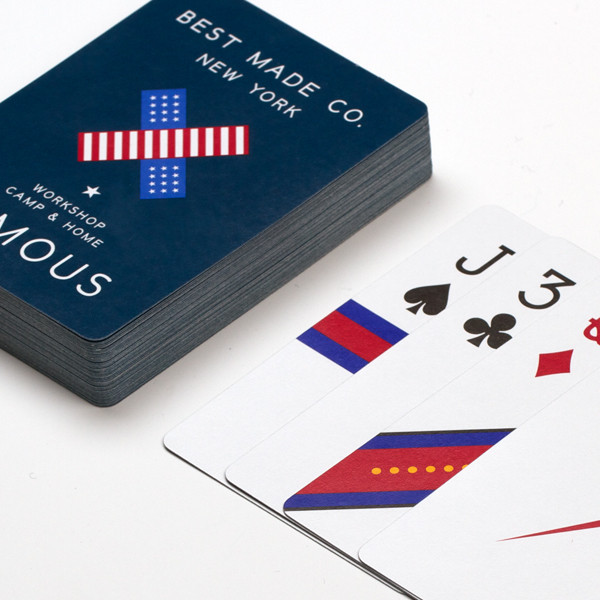 There's not much I can say about a playing card deck because they're almost all the same. I just thought this one by Best Made Company was cool enough to point out because of the excellent artwork on its cards. Great stocking stuffer idea, and at only $8 it's not too bad a deal.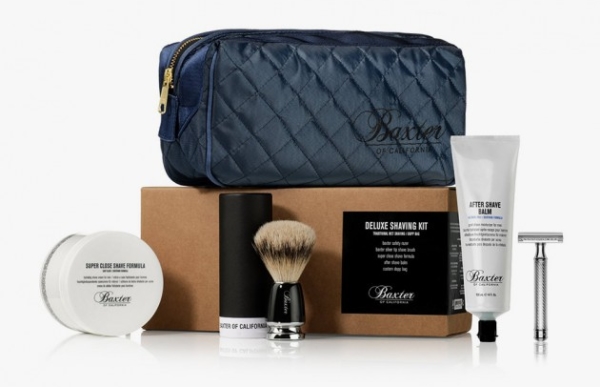 I recently linked to a shave kit that was really only missing one key item: a razor of some kind. Now I've come across the Baxter of California Shaving Kit, which has a double-sided safety razor, as well as a nice Dopp bag to carry everything around with while traveling.
Also, where the previous kit I mentioned had a simple boar hair shave brush, this kit has a higher quality silver-tip badger hair brush, which feels much nicer on the skin. Get this kit from Amazon for $150 (down from the usual $209).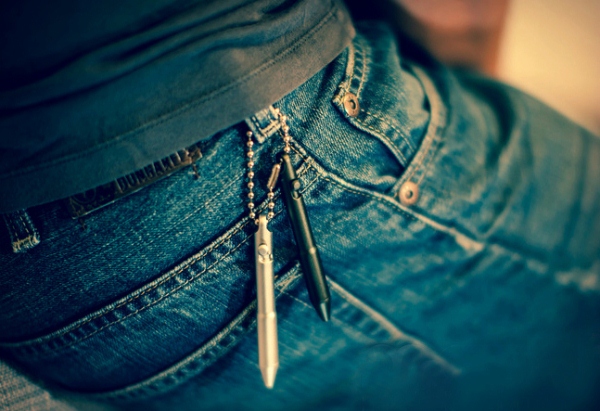 I'm one of those people who always finds a way to lose pens, no matter what I do. I'll leave one in a specific spot, only to find that it was somehow magicked away the next time I need it. The Move Pen is a Kickstarter project that might help me out a little.
With a built-in attachment point for keychains and/or lanyards – as opposed to a keychain cap that could get separated and lost – this bolt-action, aluminum alloy pen is perfect for carrying around at all times. At only 3.3-inches in length, it's compact enough to keep in your pocket, and it's durable enough that you shouldn't have to worry about it breaking.
The Move Pen has already met its Kickstarter funding goal, and there's still over a month to go, with plenty of open prize slots left ($48-$52).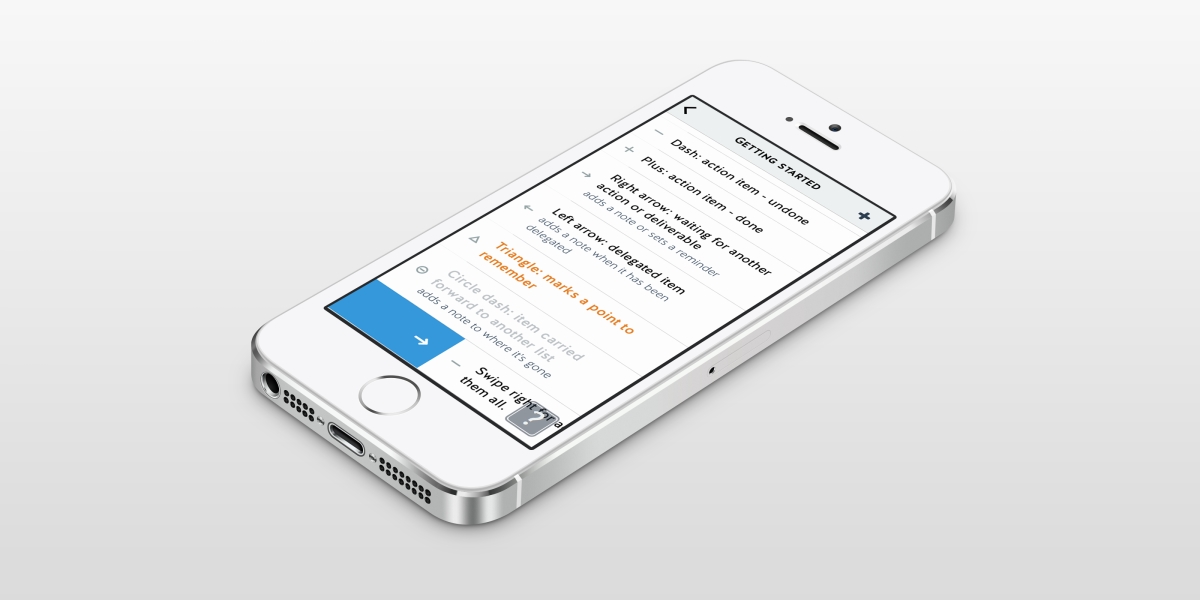 My friend Patrick Rhone is known for many things, one of them being a to-do system called Dash/Plus that was designed for people who like to manage task lists with pen and paper. Think of it as a collection of various bullet points you can use to denote the status of items on your to-do list.
Today, Patrick announced that the Dash/Plus system had been adapted into an iPhone app, and it looks awesome. The app was designed to be fast and minimal, as well as completely gesture-driven. Swipe right on items to change their status, swipe left to delete them, and pull down on the list to add new items.
The app is only $3, and part of the profits will go to a school in Indonesia where the current goal is to get an iPad into the hands of every student. So buy the app and support a wonderful cause at the same time. Win-win!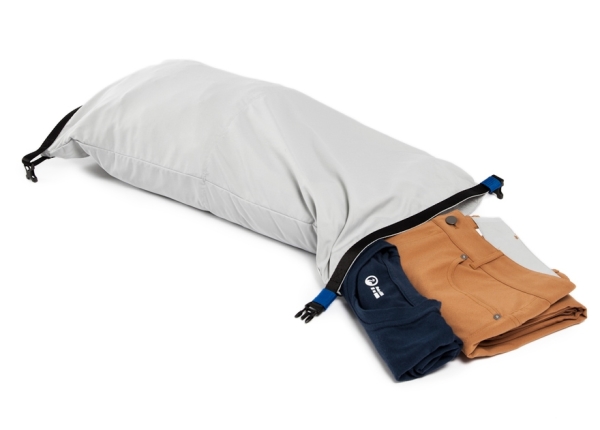 When I go on trips that last a few days or longer, I typically just throw my dirty clothes back into the suitcase, but on the opposite side from my clean clothes. I know I can't be the only one who does this, but that doesn't make it okay.
The Outlier Doublebag might solve this problem. It's essentially two bags in one, with openings at each end and a movable partition inside. The idea is, you start your trip with clean clothes packed at one end of the bag, and as they get dirty, they are put into the other end of the bag. This keeps the clean clothes from touching the used stuff and keeps you a little more organized.
Unfortunately, the Doublebag is out of stock at the moment, but Outlier has provided a sign-up link on the store page so you can be notified if/when it gets restocked. Maybe I'm an optimist, but I think that if more people sign up for these notifications, Outlier might get around to it quicker.
Of course, I would also keep an eye out for any deals that crop up around the web.

As someone who does nearly all of my writing from an iPad, I've been very happy with my Logitech Ultrathin Keyboard Cover. I like the feel of the keys and the way it protects my iPad when it's closed, plus I haven't yet needed to charge the thing once in the six months I've owned it.
But it's not without limitations. The opening/docking procedure is a tad awkward and takes some getting used to, and the whole setup really only works on flat surfaces. I can't lie back on my couch and rest the keyboard on my legs to do any writing because the iPad just tips over onto me.
It'd be nice if I could just open the case up to any angle like a laptop and be done with it, and that's what the upcoming ZAGGkeys Cover for iPad Air promises to deliver. There won't be a need to remove the iPad from the magnetic hinge every time it's opened, and the viewing angle is adjustable. It also has a backlit keyboard, where my Logitech does not.
I obviously can't vouch for the ZAGGkeys Cover since it's only available for pre-order ($100) at the moment, but ZAGGkeys usually makes good stuff so I'm optimistic about it.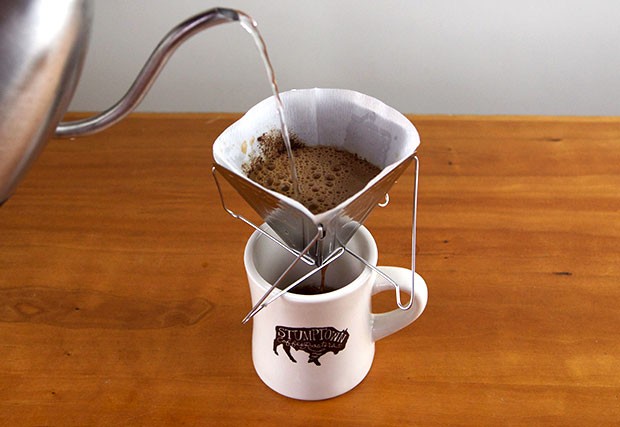 Coffee and camping are two things that go together very well, but I feel like a lot of brewing equipment is too delicate for the outdoors. As much as I like my Hario V60, I'm not sure the ceramic would hold up well in my bag.
The Snow Peak Coffee Dripper, another pour-over brewer, may be a solution to this problem. It essentially works like a V60 in that it sits directly atop a coffee mug, but it's comprised of collapsible (and durable) stainless steel pieces, making it ideal for tossing into a bag when not in-use. It's also compatible with V60 and Chemex filters, which is nice.
I've checked some reviews around the web, and the only consistent "downside" people are giving is that it seems to be a bit on the heavy side. At only four ounces though, I find that a little hard to believe, especially since the V60 and even the AeroPress both weigh at least a pound.
The Snow Peak Dripper is available from the Stumptown Coffee Roasters online store for $25 + shipping.
At Pencils.com, we believe that creativity is the greatest of all virtues. And, with our selection of unique, high-quality pencils, notebooks, and creative tools, we've got everything you need to unleash yours.
Whether you're a pencil nut who knows all the brands (Caran d'Ache, Blackwing, Faber-Castell, we stock them all), or a casual doodler looking for something to inspire you, there's something for you on Pencils.com. Combine that with our legendary customer service and fast, reliable shipping, and you've got some serious creative potential.
So, go ahead and read the story of the $40 pencil, learn about the pencil company that has been around since the French Revolution, and find the perfect notebook to capture your ideas. If you're in the giving mood, we also have gifts for artists, writers, musicians, and anyone else on your shopping list.
Above all else, stay creative.
* * *
Our thanks to Pencils.com for sponsoring the RSS feed this week. Sponsorship by The Syndicate.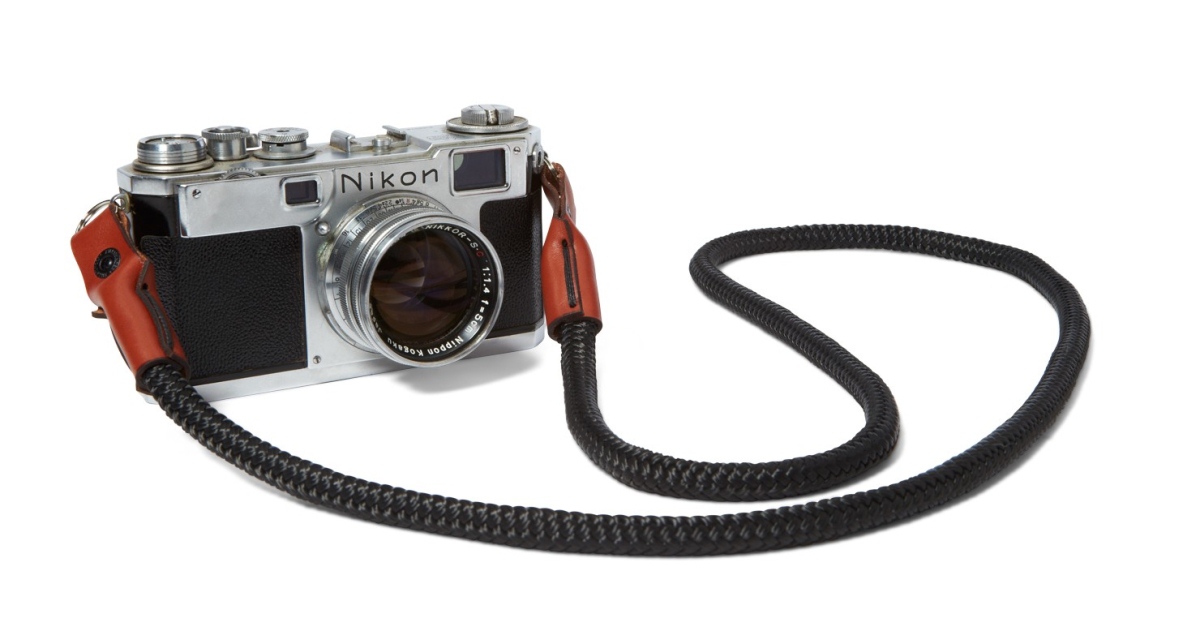 We love a good camera strap around here, and the Killspencer Camera Strap looks to be a great contender. Like the DSPTCH Wrist Strap Shawn reviewed, the 48″-long Killspencer strap is made of super durable and virtually untangleable parachute cord, with the addition of stylish bridle leather accents at each end.
There are three versions of this strap, based on the color of the leather accents: black, dark brown, and my personal favorite, chestnut (pictured above). Pick one up from Killspencer for $89.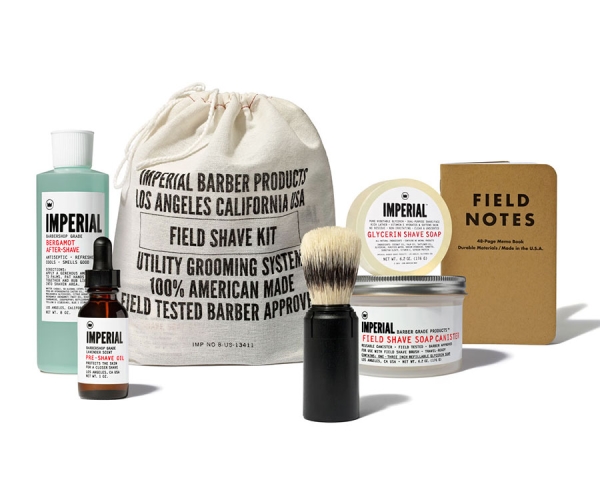 Something I've noticed a lot of in the last few years is a renewed interest in the old-school, ritualistic style of shaving, often referred to as "wet shaving". Guys are tossing out their modern shaving stuff in favor of the kind of gear their grandfather might have used back in the day, and in turn they're getting a much more relaxing and rewarding shave experience.
If you know a guy who hasn't yet caught onto this trend but would probably enjoy it, a nice way to get them started is with something like the barber-grade, limited edition Field Shave Kit. There are many such shaving kits in the world, but this one is slightly more unique because it comes with a Field Notes notebook.
Here's what else it comes with:
Pre-shave oil w/ lavender
Bergamot after-shave
Glycerin shave soap puck
Field Shave soap canister
Boar hair travel shave brush
A bag to carry everything
It'd be nice if the kit included a safety razor, and a brush with higher-quality badger hair rather than boar hair, but overall this is a pretty good wet shave starter kit. $60 at Imperial Barber Products.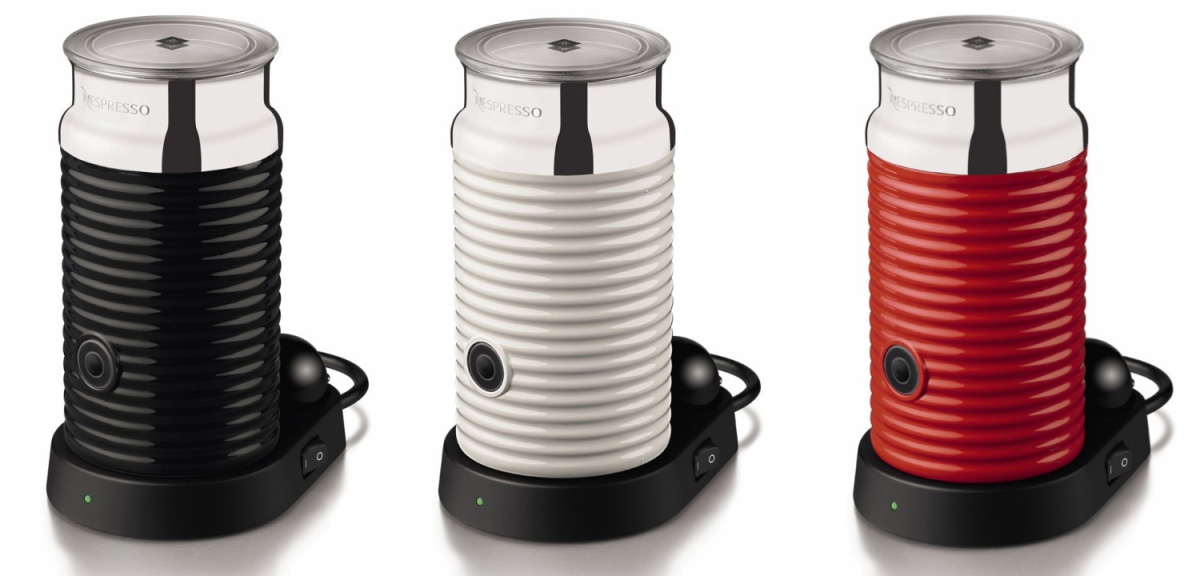 Before the coffee geeks cry out with indignation: yes, I realize I am linking to a Nespresso product and Nespresso is a blight on the coffee-making world, but this is not one of their wasteful coffee pod contraptions.
No, the Aeroccino 3 – no relation to the AeroPress – is merely a milk frothing machine, and a good one at that. It can froth milk hot or cold, with the hot temperatures ranging between 160°F and 170°F. You can get a sense for the froth quality and other details from this video review.
For someone who enjoys drinking lattes every now and then, something small like the Aeroccino is ideal for taking on trips, because most hotels aren't going to have an espresso machine in the room. And like the AeroPress, the Aeroccino is quite easy to clean up. Put the two in a bag together, and you've got yourself a nice little mobile coffee setup to work with.
The Aeroccino is available in black, white, and red, with prices ranging anywhere between $100-$160 depending on who you buy it from.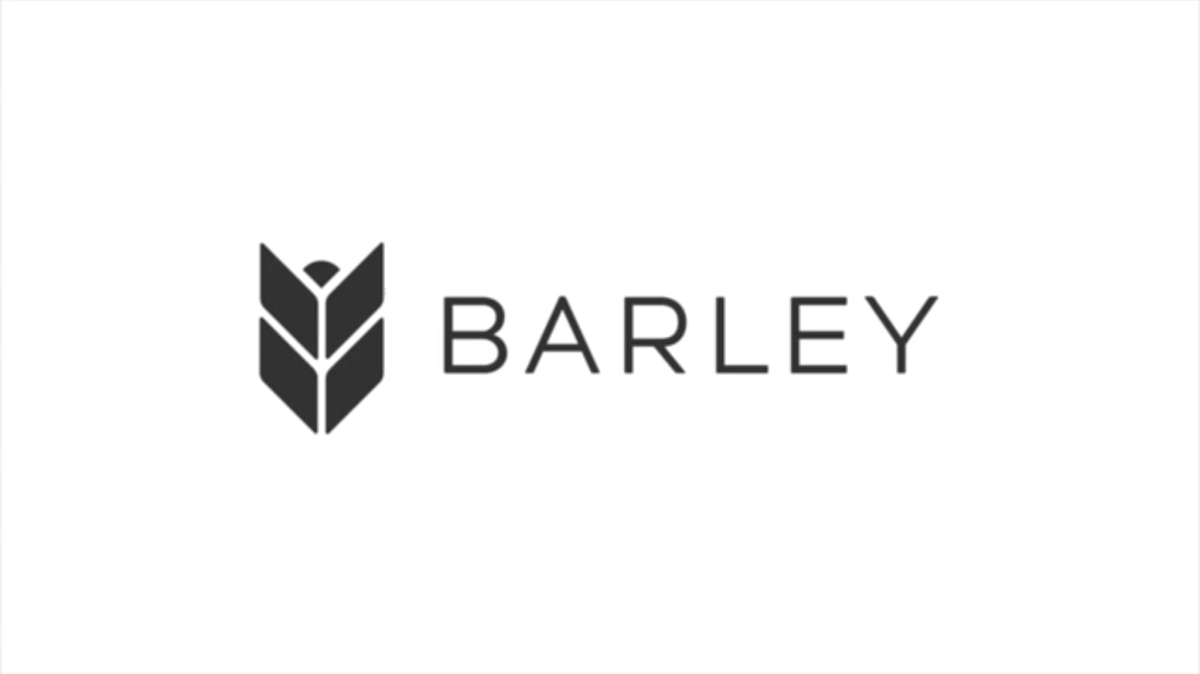 Barley is a WordPress plugin that allows you to edit your content – such as blog posts and images – directly from your site's front-end rather than from the back-end admin panel. This means that while viewing your site, you can simply click the text area you'd like to edit and begin typing.
Our editor Shawn Blanc wrote a mini-review of it, with one quibble worth knowing about:
>"After a post has been edited in Barley, the back-end text of the article gets converted from Markdown to HTML."
Like Shawn, I prefer to keep my stuff in Markdown format if at all possible, so hopefully the Barley developers can add a settings toggle for this at some point.
If you'd like to check Barley out, a license currently costs $12/year per site.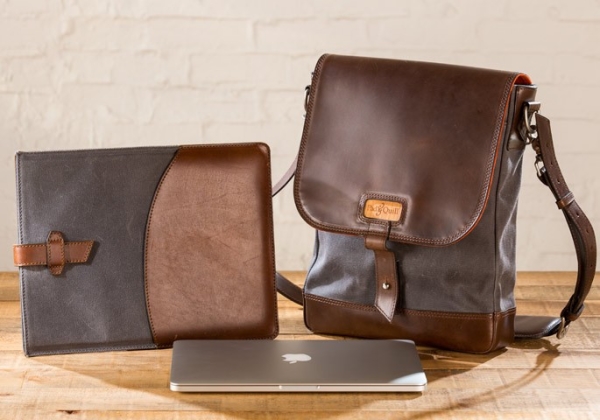 The folks at Pad & Quill are renowned for their quality leather device cases, such as the Little Pocket Book for iPhone. Now they've unveiled a new lineup of gorgeous bags and device sleeves for pre-order that will surely make great gifts for the holidays.
All of the items listed below are comprised of full-grain cowhide leather, twill-woven waxed canvas, and parachute-grade nylon stitching. They're also all lined with P&Q's signature soft orange suede.
If you pre-order any of these items now, they will be shipped to you in early- to mid-December.
More tools and toys on the next page →